Pink Embroidered Flowers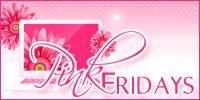 No, it is not my sister this time. I run out of pictures of her with pink so today, I featured my evening silk robe with pink flower embroidery.
Can't see it clearly? Here is a close up shot of the embroidered pink flowers on the robe.
I don't know if it was hand-embroidered. My wedding planner got this silk robe for me on my wedding day. So this robe is the most memorable among my robes for I was wrapped in this robe before I finally put on my wedding dress. I like that big pink flower!