Pink Sling Bag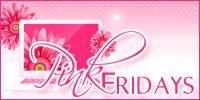 I am not feeling well so I am not going to make a long post today. I just got up for an hour nap after dinner, which is bad and is making me feel sick and sleepy. I am mad at myself for doing it. Tsk. Anyway, my share today is this pink sling bag.
Obviously, this is Cheep's sling bag. This is her current favorite I think because I always see her using this sling bag. I just hope she won't totally ignore her other bags or else, i'll take those bags back to my closet. Lol!
That's all I can share for PF today. I gotta wake myself up coz I really feel super sleepy. My eyes are dropping while typing and I can't sleep yet for it was only 2 hours ago when I had dinner. It's bad for the belly to sleep that early. So i might go downstairs and have some coffee. Besides, I have to reboot my computer according to my spyware doctor. Virus....grrrrrrrrrrrr!