Cheep in Her Pink Tee at Home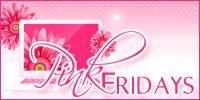 Happy Pink Friday everyone. It is time to show something pink again. Today, I am sharing photos of my youngest sister in her pink tee. This is how she looks like when she's just at home chilling.
She kicks me off the computer sometimes to play computer games, to check her Facebook account and to chat with foreigners....shhhhh! Buking! Lately she implied about this notebook sale in Lee Plaza. I know she wants one. I told her if she could suffer hunger with me for four month then we could buy that notebook. Lol!