Sister's Pink Days At School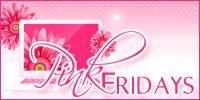 It is Cheep again for my Pink Friday share. It has always been her as she is the one who loves pink the most among the three Chies. So, here are her pink days at school.
This was taken during the first day of thei College Day. She was sporting her see-through Crissa shirt, pink sling bag and flops. I wonder why she used my yellow wristwatch instead of hers that is pink. Hmn?
This was taken I guess the next day. This time she sported her pink sling bag, flops and boasted her pink henna.