Howdy everyone! I am not feeling well today. My migraine attacked when I got up this morning and my body temperature raised to 38 degrees. I decided to go back to sleep after I had my breakfast to rest myself hoping to feel better but I got up from a daymare. I am glad I was able to move and wake myself up before totally losing my breath. It could possibly end me like how it ended one of my friend's life.

Now, I am feeling a little better and trying to wake myself up by surfing online, surfing for something that can totally wake me up and look what I found! I found these leather lace boots by Alexander McQueen, a British fashion designer whose unconventional designs and shocking tactics earned him designer of the year awards several times.
Let us experience some of
Alexander McQueen's boots
that I wouldn't mind owning, and I am sure some of you wouldn't mind too.
SCRIMSHAW GILLY BOOT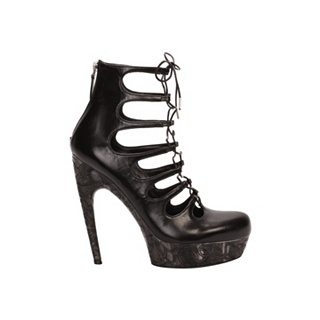 SCRIMSHAW GILLY BOOT has a screaming price of $1,435.
It is a celtic lace-up pump with leather laces and 'scrimshaw' carved platform. Heel height is 135mm.
GILLY BOOT
If you want a not too scary heels, Gilly Boot is a good choice with a still expensive price (for me) of $935.00.
It is still a Celtic lace-up pump with leather laces. Heel height is 115mm.